Nature's Spectacular Show: Discovering The Best Waterfalls In Kenya
By Katie May
Kenya is home to a breathtaking array of natural wonders, ranging from the country's untamed savannahs to the jaw-dropping vastness of the Great Rift Valley. Its powerful waterfalls, which thunder like molten silver from towering rocky crags and breathtaking hidden heights, are among its most mesmerizing vistas.
The incredible waterfalls of Kenya are testaments to the relentless strength of water's endless dance with gravity, roaring with the primordial force of nature and standing as throbbing powerhouses. Be ready to go off on a trip of exploration into the rumbling center of Kenya's hydraulic magnificence.
The biggest waterfall in Kenya will be our first stop in this article's exploration of some of the most mesmerizing Kenyan waterfalls.
Embarking On A Tour Of Kenya's Top Waterfalls
1. Karuru Falls: The Tallest Waterfall in Kenya
Numerous of Kenya's finest waterfalls are situated within the Aberdare Mountains, particularly within Aberdare National Park. Among these natural wonders stands Karuru Falls, which is the tallest waterfall in Kenya. This remarkable cascade plunges from a regal altitude of approximately 896 feet, divided into three levels measuring 384, 85, and 427 feet correspondingly. The vicinity is a riot of lush vegetation, further accentuating the magnificence of this formidable giant.
Karuru Falls emanates an air of grandeur as it is framed by the Aberdare Ranges. Its waters drop from an astonishing height of 273 meters, making it Kenya's tallest waterfall and paying homage to the country's unspoiled splendor. Photographers looking to capture the ultimate shot will find the shrouded surrounds, caressed by mist, to be the ideal backdrop. Hiking pathways that lead to vantage spots with expansive panoramic vistas are also great for adventurers.
Karuru Falls is the tallest waterfall in Kenya
2. Nyahururu Falls: A Dance of Water and Rock
Named after its town of origin, Nyahururu Falls stands as a prime example of nature's artistic prowess. With a vertical descent of around 245 feet, these falls, also known as Thomson's Falls, are a breathtaking sight as the Ewaso Ngiro River cascades into a deep gorge adorned with lush vegetation. A tribute to the explorer Joseph Thomson, who stumbled upon its beauty in 1883, Nyahururu Falls offers a mesmerizing spectacle that leaves all who witness it in awe.
Waterfall in Shimba Hills National Reserve 
3. Thomson's Falls: Nature's Majesty Unveiled
Thomson's Falls is considered one of the famous waterfalls in Kenya. With a towering altitude of 74 meters and an elevation reaching 2,360 meters, these charming falls stand among the loftiest in Kenya. Situated in Central Kenya, they are positioned merely two kilometers away from Nyahururu town. Found along the course of the Ewaso Nyiro River, which originates from the Aberdare Mountain Range, the falls owe their existence to this waterway. The falls were stumbled upon by Joseph Thomson, a Scottish geologist and naturalist, during his 1883 journey on foot from Mombasa to Lake Victoria. Embrace the awe-inspiring panoramic view from numerous observation points encircling the gorge's rim. Notably, one of Kenya's highest hippo pools can be located upstream from these falls.
4. Fourteen Falls: A Kaleidoscope of Cascades
Positioned along the Athi River, this marvel is renowned for its collection of fourteen distinct waterfalls. The distinctive configuration of Fourteen Falls is its exceptional trait – the water cascades gently over the rocks, crafting a picturesque spectacle. The falls beckon adventurers to embark on boat explorations, offering an exclusive perspective to witness their grandeur. The scene appears almost surreal as if plucked from the realm of dreams. Extending beyond its aesthetic appeal, the dedication to conservation in the vicinity of Fourteen Falls underscores the importance of safeguarding these delicate ecosystems.
Fourteen Falls is renowned for its collection of fourteen distinct waterfalls 
Sheldrick Falls distinguishes itself amidst Kenya's array of waterfalls, primarily owing to its distinctive location within Kwale County's Shimba Hills National Park. These falls, which soar to a height of 70 meters, are named after the renowned environmentalist David Sheldrick, serving as a remarkable embodiment of the park's untamed beauty. Descending a height of 80 feet to the rugged precipice, the falls create a glistening cascade within the expanse of one of East Africa's largest coastal forests. The magnificence of this sight pays tribute to Major David Leslie William Sheldrick, and the journey towards it is an opportunity to form a profound connection with nature, enriched by the diverse array of plant life and animals along the path.
6. Lugard Falls: Nature's Rock-Sculpted Symphony
The rapids along the Galana River in Tsavo East National Park are called Lugard Falls after Captain Lugard, who served as the first proconsul of East Africa. The falls include a variety of white, light gray, and pink rocks that have been sculpted into distinctive patterns over time by the water as the river descends into a small rocky valley. Tourists are in awe of the sight and sound of the rapids during the rainy season as they morph into strong floods.
From a parking area, visitors may explore the falls by scrambling over eroded rocks or strolling along the stream. Large crocodiles that settle on sandbanks use the lake below the falls as their home. A site named Crocodile Point is nearby, less than a kilometer away, and it is home to crocodiles and hippos.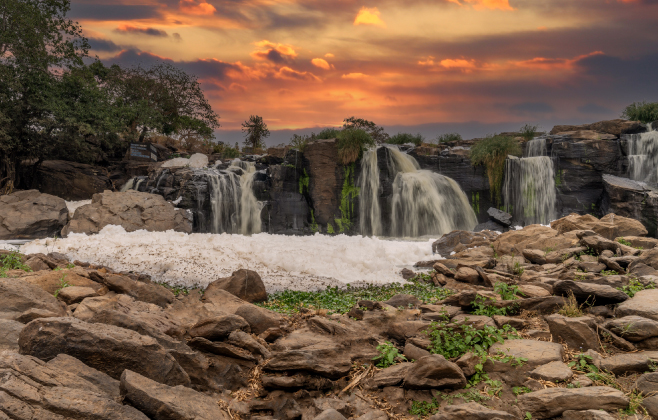 Lugard Falls is a melodic symphony crafted by nature's rocks
Information For Newcomers Before Traveling To Kenya
While many travelers spend their time in Kenya on wildlife safaris, beaches, and historical sites, there are also several waterfalls that are absolutely worth exploring. In addition to exploring these natural marvels, we'll answer your questions about the best time to visit Kenya, the ideal waterfalls for couples, the largest waterfall, and the clearest waters. Kenya's waterfalls are more than sights; they are experiences that offer a profound connection to the raw beauty of our planet.
What is the best time to visit Kenya?
The peak season, which runs from June to October, is the ideal time to visit Kenya if you want to see waterfalls. Additionally, the Masai Mara National Reserve's huge migration takes place around this time.
Read more: Let's check out the best time to visit Kenya
Which is the best waterfall in Kenya for couples?
For anyone seeking a stunning waterfall close to Nairobi, Kenya, the Oloolua Nature Trail Falls are ideal.
Which is the largest waterfall in Kenya?
The tallest and highest waterfall in Kenya is Karuru Falls in the Aberdare National Park, which is 273 meters high.
Which waterfall in Kenya has the clearest water?
With the cleanest water are the waterfalls in Ngare Ndare Forest. Cliff jumping and swimming are additional ideal activities there.
Kenya Immigration Services hopes that the best waterfalls in Kenya have given you the desire to travel. Each time we go on a trip, we see the world with new eyes and gain a better knowledge of how we relate to the environment and other people. By submitting a visa application through the Kenya Immigration Service, you may begin your journey to fully see this amazing nation. You may start a journey that will provide you with wonderful memories and the chance to see some of Kenya's most beautiful waterfalls by requesting your visa right this second.