Everything About Lamu Island - Kenya's Indian Ocean Paradise
By Azure Lee
Lamu Island, situated in the Indian Ocean just off the coast of Kenya, is a port, a city, and an island, approximately 150 miles away from Mombasa. It is an integral component of Kenya, an East African nation, and traces its origins back to the 12th century.
This region, encompassing several stunning Indian Ocean islands such as Lamu, Manda, Pate, Kiwayu, and Manda Toto, collectively referred to as the Lamu Archipelago, is characterized by its archaeological splendor and rich historical heritage.
For those seeking a more peaceful and less crowded beach holiday experience in Kenya, particularly when contrasted with the busier and more developed central and southern coastal areas, Lamu Island is a highly recommended destination.
Where Is Lamu Island Located?
Lamu is a town, port, and island located in the Indian Ocean off the East African coast, approximately 150 miles (241 km) to the north-northeast of Mombasa. It is governed as a part of Kenya. The port is situated on the southeastern coast of the island. Having once been a colony under Persian and later Zanzibari influence, Lamu Island was a significant trading hub for gold, spices, and slaves, rivaling Mombasa until the late 19th century. 
Lamu town, the oldest of its kind still in existence in Kenya, stands as one of the best-preserved representations of Swahili culture in East Africa and received UNESCO World Heritage status in 2001. Both the town and the island are popular destinations for tourists.
Lamu Island, situated in the Indian Ocean just off the coast of Kenya
Best Time To Visit Lamu Island in Kenya
It's critical to know when to visit Kenya because this will affect lodging costs, flight costs, availability, and the weather tourists can anticipate while on a safari.
All seasons are good for visiting Lamu Island. Yet, it is advised to travel during the two dry seasons, the best time to visit Lamu Island is from July to October and also January to February, for the unmatched beach vacation on the Indian Ocean. Typically, May is the wettest month. Because it's the holiday season, December is often highly busy.
Top Things To Do In Lamu Island Kenya
Walk along deserted beaches
The greatest locations for a beach stroll are a few kilometers south of Lamu Town, on the island's eastern point, near the Shela settlement, where the channel opens to the ocean.
You are never far from sand dunes and the empty beach in Shela, which is hardly more than a picturesque shoreline and a maze of winding sandy pathways.
Read more about the Best Beaches In Kenya To Relax And Unwind
Discover the narrow streets of Lamu Town 
Having origins that trace back to the 12th century, Lamu Town holds the distinction of being the oldest inhabited Swahili town in Kenya,  comparable only to Tanzania's Zanzibar.
With its historical fort, intricately carved doors, vibrant markets, and omnipresent donkeys, it is no surprise that UNESCO recognized the town as a World Heritage Site.
Get lost in Shela Village
You will undoubtedly need to get around Shela's maze of sand-lined streets while you're there.
These pathways are like a labyrinth, wide enough for donkeys to pass through, weaving their way amidst tall stone townhouses, quaint thatched huts, a handful of mosques, remnants of historical ruins, and a roomy square bordered by a few market stalls.
Swim and Sunset Gaze on Manda Island
You can swim to Manda Island across the bay if you have a lot of energy. Although it might seem extreme, you can hire a motorboat to travel with you, carry your belongings, and rescue you if you feel weary of swimming.
The largely deserted Manda Island offers prime locations for witnessing the magnificent African sunset as it descends behind Lamu Island.
When gazing in the direction of the village and Shela's Fort, you'll encounter the pristine, extensive, palm-fringed beaches of Ras Kitau, which are truly the crown jewel of the Lamu region. Furthermore, you can enjoy a sundowner, such as in the delightful atmosphere provided by The Majlis.
Lamu Island is a highly recommended destination
How To Get To Lamu Island
How to get to Lamu from Mombasa
If you find yourself in Mombasa, Kenya's coastal city, you can reach Lamu Island by taking a scenic journey along the coast. 
The most economical option for traveling from Mombasa to Lamu is by bus, with fares ranging from $8 to $10, and the trip typically taking approximately 7 hours and 8 minutes.
Alternatively, the quickest means of traveling from Mombasa to Lamu is by taking a flight, with ticket prices ranging from $60 to $270, and the journey typically lasting 52 minutes.
How to get to Lamu from Nairobi
Traveling to Lamu Island from Nairobi, Kenya's capital, is relatively straightforward. You have two main options:
The least expensive option for traveling from Nairobi to Lamu Island is by bus, with fares ranging from $17 to $24, and the journey typically takes 13 hours and 1 minute.
On the other hand, the fastest way to reach Lamu Island from Nairobi is by flying, with ticket prices typically ranging from $100 to $300, and the flight duration averaging 1 hour and 41 minutes.
Lamu Island is a port, a city, and an island, approximately 150 miles away from Mombasa
Where To Stay In Lamu Island
Lamu offers a variety of excellent accommodation options. You have the choice of staying within Lamu Town itself or on Manda Island, situated just a brief boat ride away from Lamu, providing an alternative yet convenient lodging choice.
Msafini Hotel
The Msafini Hotel has an outdoor pool and a restaurant. It is situated in Shela, a 2-minute walk from Shela Beach and a 10-minute boat trip from Lamu Town. There is free WiFi access.
Each room comes with an en-suite bathroom with a hot shower, a balcony, and views of the pool, ocean, and sand dunes.
The on-site restaurant, which is on the top level and serves genuine Swahili food, with views of the pool, sea, dunes, and the entire village.
Jua House
Jua House offers lodging with a seating area and is 500 meters from Manda Beach and 500 meters from Shela Beach in Lamu. WiFi is provided for free all across the place. Each apartment has a private bathroom with a walk-in shower, a hair dryer, and complimentary toiletries.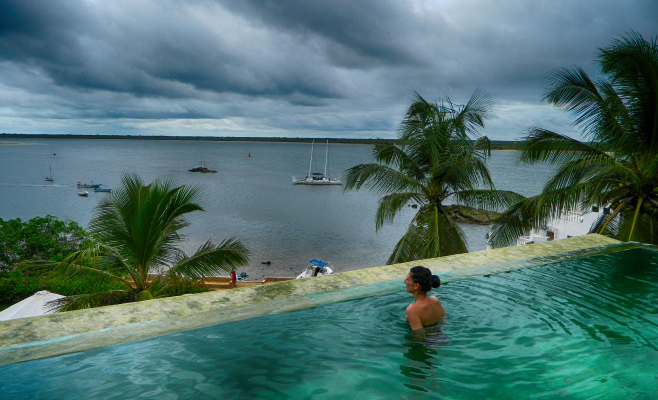 Lamu offers a variety of excellent accommodation options
Banana House and Wellness Centre
Banana House & Wellness Centre, which has an outdoor pool, is situated in Shela village, Lamu, 2.7 kilometers from Gallery Baraka. The distance to Lamu Fort is 2.8 kilometers. The property has a BBQ, views of the garden and the sea, and free WiFi.
The guest home has a seating space in every room. Each accommodation at Banana House and Wellness Centre has a private bathroom with a shower and complimentary facilities, and some additionally have a terrace.
Jannat House
At Lamu Old Town, Jannat House is a hotel with a restaurant, a garden, and an outdoor pool. It is located not far from the Waterfront and the Main Road. 
The apartments are furnished with Swahili furniture carved from wood, and some of them include individual balconies in addition to a seating space. Towels are also provided in the restrooms. A fan and linen are extras.
Lamu Island beckons as a destination just waiting to be discovered with its rich history, vibrant culture, and spectacular natural beauty. As you prepare for your journey, remember that travelers planning to visit Kenya, including Lamu Island, can easily apply for a Kenya eVisa through our website: Kenya Immigration Services. This streamlined process ensures a smooth entry into the country, allowing you more time to enjoy Lamu Island's charming coastline. So, contact us and pack your bags, your Lamu adventure awaits.