Kenya visa requirements for Micronesian citizens
When traveling to Kenya for tourism, citizens of the Federated States of Micronesia, like most nationalities, have access to an electronic visa. As a result, you do not need to visit an embassy to obtain your travel document; instead, you can apply for a Kenya visa online through kenyaimmigration.org. The Kenya e-visa for Micronesian citizens can be obtained in as little as 5 hours.
This page contains all the information on Kenya visa requirements for Micronesian citizens and applying for a visa online.
Kenya e-visa for Micronesian citizens:
Micronesian passport holders who intend to visit Kenya must obtain a visa. It is best to apply for a Kenya e-Visa well in advance of their trip to ensure they receive it before they depart.
The Kenya e-visa for Micronesian citizens has been available since 2015. It was introduced as a way to speed up the visa application process for Micronesians traveling to Kenya.
The application for a Kenyan e-Visa is entirely completed online. This eliminates the need for a trip-planning visit to an embassy or consulate.
Furthermore, travelers are not required to be in Micronesia to submit their applications. They can apply from anywhere in the world with internet access, as long as they have the proper documents.
The following activities are permitted with the Kenyan visa online:
Holidays
Business activities
Visiting friends and relatives
The Kenya e-visa for Micronesian citizens is a single-entry visa that allows the holder to stay in Kenya for 90 consecutive days, with the option to extend that period by another 90 days if desired (once in Kenya).
Micronesians traveling to Kenya on an e-Visa will be able to use it right away, and it will be valid for three months.
Micronesian citizens coming to Kenya to live, work, or study for an extended period of time are required to apply for the relevant type of visa at Kenya Embassy in Micronesia
Kenya visa for Micronesian citizens - How to get a Kenya e visa from Micronesia?
Type of Kenya e visas:
Kenya tourist e-visa: The Tourist E-Visa is designed for visitors who want to spend as much time as possible in Kenya. This option allows you to relax, visit friends and family, or go on a tour. In the beautiful country of Kenya, you'll have all the time in the world to do whatever you want. The e-Visa Kenya validity is 3 months from the date of issue. The e-Visa allows a 90-day stay in Kenya with single entry.
Kenya transit e-visa: This is the preferred method. For travelers from Kiribati who can only visit Kenya for a short time, an e-Visa is the best option. The Transit e-Visa allows you to stay in Kenya for three days before departing. 
Kenya business e-visa: If you intend to visit Kenya for business, you must bring one additional document in addition to the ones listed above. A letter of invitation will be required. It must be issued in the name of the applicants by a Kenyan company. The validity of this e-Visa for Micronesian citizens is for 3 months after its issued.
East Africa e-visa: This option allows you to see both Kenya and its neighboring countries. With the East Africa e-Visa, you'll have full access to Kenya, Rwanda, and Kenya, with no restrictions on entering and exiting at any time during your 90-day stay.
Check Out Kenya Visa Requirements For Micronesian Citizens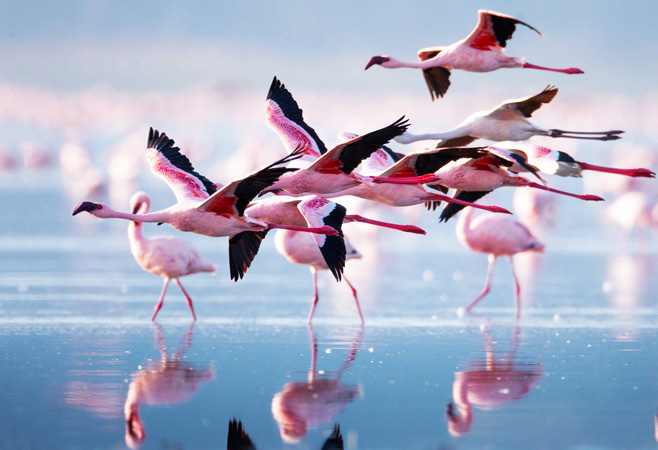 Check Kenya e visa requirements for Micronesian citizens online anytime you need
The Kenya e-visa for Micronesian citizens was created to be as easy to use as possible. To submit their online form and receive the visa, applicants must meet a number of basic requirements. The following is a preliminary list of what you might be asked for:
Valid passport: Micronesian citizens must have a passport that is valid for at least 6 months from the date they enter the country. The Micronesian citizens must submit digital copies of their passports, including biographical and cover pages, to the Kenya e-visa application form. When entering Kenya, the passport must have at least one blank page.
Digital photographs: The Micronesian applicant must submit a recent digital photograph that follows Kenya e-visa's photo guidelines, such as having a white background, being front-facing, and not wearing any head garments or sunglasses.
Email address: Your Kenya e-visa for Micronesian citizens will be electronically linked to your passport, but you will still need a copy to show at the Rwanda immigration office. That is why, in order to receive this information properly, you must have a valid e-mail address.
Proof of travel: Micronesian citizens who travel must have proof of travel, such as details about their accommodations and flight dates so that local authorities are confident they will leave the country within the maximum time limit allowed.
Tourist e-visa: Travelers must submit an invitation letter and host's ID card. 
Business e-visa: This e-visa requires a COI of the company, an invitation letter and staff's ID card. 
The Kenya e-visa entry requirements may vary depending on the purpose of travel and the type of visa. Before beginning the application, make certain that all necessary documents are gathered.
How To Apply For A Kenya Visa Online From Micronesia
Need to fully understand about Kenya e visa fees and services for Micronesian citizens to apply for a Kenya electronic visa online from anywhere in the world
The Kenya e-Visa for Micronesian citizens consists of a straightforward online Kenya visa application. This includes a form with questions about the applicant's personal and passport information, as well as their health condition and criminal record.
Travelers can apply for Kenya visa from Micronesia online in 3 simple steps:
Step 1: Fill out the Kenya e-Visa application form from Micronesia
Step 2: Pay the Kenya visa fees securely online
Step 3: Receive the approved Kenya e-visa by email
To apply for a Kenya e-Visa, Micronesian citizens need to fill out the electronic form with basic information, including: 
Personal details: name, gender, date of birth, country of citizenship
Micronesian passport details: number, issue date, and expiry date
Contact details: including an email address
Travel information: type of visa, date of arrival and departure in Kenya
Before submitting the e-Visa form, applicants should double-check that all the information they have entered is correct. Any errors or missing information may cause processing delays.
To complete the application, travelers must pay the Kenya visa fee from Micronesia using a Credit/debit card, Visa card, American Express, MasterCard, PayPal, or Wire Transfer through the Bank of Cyprus. 
Kenya e-visa processing times from Micronesia:
Most Kenya e-Visa applications from Micronesia are processed and approved in 5 to 72 business hours.
Travelers who need their Kenya visa urgently can choose the priority service for guaranteed 5-hour processing.
Everything Need To Know About Kenya Visa Fees And Services For Micronesian Citizens
The Kenya e-visa fees for Micronesian citizens are determined by the type of permit required. In general, electronic visas are less expensive than traditional embassy visas.
Kenya e-Visa fees vary according to whether the applicant selects standard or priority processing. On the payment page, the total cost is calculated and displayed.
Micronesian citizens can securely pay their e-Visa fees online. 
To apply for a Kenya visa online, you must pay two (2) types of visa fees: service fees and government fees. 
For the processing time of your Kenya e visa for Micronesian citizens, you will have three options:
Normal: The slowest option you have ensures that you receive your Kenya e-visa in 3 business days.
Urgent: If you choose this option, your application is processed within 1 business day.
Super urgent: If you need your visa as soon as possible, this is the best option you have. Your application is reviewed within 5 business hours. As you might expect, this is also the most expensive option.
In addition, we also provide services to assist our customers while traveling to Kenya such as Kenya travel insurance , Kenya esim and Car Pick-up service in Kenya.