Churches In Kenya: An In-Depth Look At National Diverse And Influential Religion
By Stella Tessa
Kenya, a nation known for its deep religious devotion, is home to a diverse array of churches that encompass various denominations and traditions. From the bustling urban centers to the serene countryside, these churches serve as pillars of faith, guiding and inspiring millions of Kenyans on their spiritual journeys. 
In this in-depth exploration, we delve into the vibrant tapestry of Kenya's diverse and influential churches. From the iconic Catholic Church with its rich history to the charismatic Pentecostal congregations and indigenous African churches, we will uncover the unique practices, teachings, and contributions of these religious institutions. Join us as we embark on a captivating journey through Kenya's spiritual landscape, discovering the depth of faith and the profound impact these churches have on the lives of the Kenyan people. Here is a list of the best churches in Kenya.
Top 10 Best Churches In Kenya
Now that we have examined the top 10 best churches in Kenya, we will reveal the spiritual diversity that abounds within Kenya's religious landscape. We will also provide a thorough analysis of their relevance and effects.
Kingdom Seekers Church
The Kingdom Seekers Fellowship Church, ranked among Kenya's most committed and hardworking churches, and one of the top best churches in Kenya, is situated in Nakuru City. Under the leadership of Kimani William, the church's services and preaching are broadcast on MBCI television. This church actively engages in community outreach initiatives and is widely recognized for its energizing worship sessions and profound preaching. With a strong emphasis on spiritual development and equipping Christians, this thriving church holds an enduring influence on its members and the neighborhood it serves.
Kingdom Seekers Church is one of the best churches in Kenya
Catholic Church
The Catholic Church, which enjoys a sizable following both locally and internationally, occupies a key place in Kenya's religious landscape. Its popularity can be attributed to the Catholic missionaries who came to the nation early. Churches with magnificent architecture, like the Holy Family Basilica in Nairobi, symbolize the majesty of this Catholic atmosphere. It shows its dedication to societal welfare by making investments in educational, medical, and philanthropic organizations in addition to its emphasis on worship. Members of the church experience a strong sense of spirituality as a result of the particular traditions of the church, such as liturgical rituals, saint veneration, and sacraments like Holy Communion and Reconciliation. 
If you want to visit the most beautiful churches in Kenya, then this should be on your itinerary.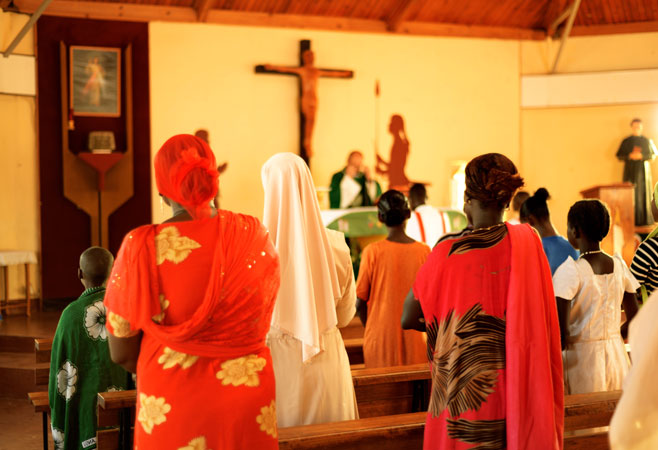 Catholic missionaries who came to the church
Christ Is The Answer Ministries (CITAM)
CITAM is a growing Pentecostal church with more than 15 locations throughout Nairobi. Through its English and Kiswahili services, CITAM, under the direction of Bishop Callisto Odede, seeks to empower urban residents. The church actively participates in numerous ministries that are aimed at various age groups and has a reputation for powerful worship services. Through investments in radio stations, schools, and community development programs, its dedication to social impact is clear. CITAM seeks to transform people, empowering them to have a good impact on society by tackling current concerns and promoting personal development.
Christ Is The Answer Ministries is a notable tourist attraction in Nairobi. This is one of the popular names on the list of churches in Kenya
Mavuno Church
One of Kenya's churches with the quickest growth is Mavuno Church, which has its headquarters in Mavuno City Hill, Athi River. As one of the famous churches in Kenya, Mavuno Church is bestowed with overwhelming serenity and elegance
The church is led by Pastor Muriithi Wanjau, and it has an impact not just in Kenya but also in Africa and Europe. Mavuno Church places a strong emphasis on comprehensive change through timely and useful teachings. Mavuno empowers its members to have a good impact on their communities by placing a strong emphasis on social justice initiatives, entrepreneurship, and personal growth. The church's quick expansion and influence can be attributed to its dynamic worship services and dedication to transformative change.
Mavuno Church with a blue cloudy sky
Anglican Church of Kenya (ACK)
As one of the oldest churches in Kenya, the Anglican Church has a strong presence across the country. Originating from the Church of England, the Anglican Church of Kenya (ACK) upholds Anglican traditions and liturgy. Known for its dedication to social justice, democracy, and freedom, the ACK played a significant role during Kenya's struggle for independence. Led by a Primate Archbishop, the ACK encompasses numerous dioceses nationwide. Sunday liturgical services, hymns, and Holy Communion form integral parts of Anglican worship. The church's commitment to societal issues has earned it a reputation as a pillar of justice and spiritual guidance in Kenya.
Free Pentecostal Fellowship of Kenya
The Free Pentecostal Fellowship of Kenya, registered in Kenya, operates across 31 regions, serving over 250,000 members. Founded by Norwegian and Swedish missionaries in the 1950s, this evangelical church focuses on evangelism, education, and socio-economic activities rooted in Christian values. Through its extensive network of local churches, the Free Pentecostal Fellowship aims to prepare believers for the second coming of Jesus Christ. Led by a Presiding Bishop, the church's commitment to spiritual and social welfare has made it a significant presence within Kenya's religious landscape.
Coptic Orthodox Church
The Coptic Orthodox Church, tracing its origins back to St. Mark the Evangelist, holds a significant presence in Kenya. With over 50 churches coordinated by priests and deacons, the Coptic Orthodox Church follows ancient traditions and liturgy. Divine Liturgy, the central liturgical celebration of the Eucharist, is a cornerstone of their worship. The church's rich liturgical practices, including prayers, hymns, and the veneration of saints, contribute to a deep sense of reverence and spirituality. Institutions like the Coptic Hospital and Hope Center in Nairobi exemplify the church's commitment to holistic well-being and service to the community.
If you are seeking some peace or blessings of God, then you must visit this Church on your next Nairobi trip.
Institutions of Coptic Church in Nairobi
Legion Maria Church of Africa Mission
The Legion Maria Church, an African indigenous Christian church, holds a distinctive place in Kenya's religious tapestry. Known for its unique attire and prayer practices, church members wear long robes and rope-like chains called Rosaries. Legion Maria's religious system bears similarities to the Roman Catholic Church but features distinct prayer styles and rituals. With a strong emphasis on the veneration of the Holy Virgin Mary, the church celebrates masses on Sundays, offering special prayers for the sick and those in need. The church's belief in a Supreme God exists in three persons and sacraments such as baptism and Eucharist underpin its spiritual practices.
Full Gospel Churches of Kenya
Established in 1949 by Finnish missionaries, the Full Gospel Churches of Kenya has grown into a dynamic church with a strong emphasis on spreading the Gospel of Jesus Christ. Divided into 12 administrative regions with numerous local church assemblies, the church strives to impact communities through evangelism, education, and social activities rooted in Christian values. By fostering spiritual, economic, and social well-being, this church in Kenya seeks to equip believers to positively influence society.
Kenya is a religious and traditional country
Kenya Assemblies of God
Operating under the umbrella of the worldwide Assemblies of God organization, the Kenya Assemblies of God has a significant presence in the country, with over 3,600 churches nationwide. Led by General Superintendent Rev. Philip Kitoto, the church believes in the existence of God in three persons and places a strong emphasis on the power of speaking in tongues. With a commitment to spreading the Gospel and impacting communities, the Kenya Assemblies of God engages in various ministries and outreach programs, aiming to transform lives and bring positive change through the message of Jesus Christ.
Kenya's religious landscape showcases a rich tapestry of faith, with a diverse range of churches representing different denominations and African indigenous traditions. As we conclude our journey through Kenya's religious landscape, it is important to remember that faith is deeply personal and subjective. The top 10 churches in Kenya highlighted in this article represent just a fraction of the numerous churches found throughout the country, each with its own devoted following and distinctive characteristics.
It goes without saying that a trip to Kenya would be incomplete without a visit to one of the aforementioned chapels.
If you're planning to visit Kenya and experience its rich cultural and spiritual heritage, the Kenya Immigration Services website is here to assist you. With a simple and user-friendly online visa application process, this website offers visitors the convenience of obtaining their visa easily and reasonably. By applying for a Kenya visa through the website, you can enjoy benefits such as streamlined processing, cost-effective fees, and the peace of mind that comes with a reliable and efficient visa service.
Apply for your visa now through the Kenya Immigration Services website and embark on an unforgettable journey into the heart of this culturally diverse nation.