Kenya Visa Requirements for UK citizens - Kenya Immigration
Kenya visa for UK citizens: Traveling abroad can be quite complicated, every country has its own e visa requirements. And travelers who wish to travel to Kenya may find the Kenya visa requirements even more challenging to consider. Specifically, UK passport holders need a Kenya visa when visiting Kenya because of specific rules and regulations in this country. In this article, we will talk about the details of Kenya visa requirements for UK citizens.
Kenya visa for UK citizens - How to get a Kenya e visa from the United Kingdom?
Moreover, Kenya Immigration Services will also explain the Kenya e visa fees, services, types, and Kenya e visa requirements for UK citizens currently available and discuss how to apply for an online Kenya e visa from the United Kingdom as simply and quickly as possible. After that, you can fully enjoy your wonderful time in this beautiful country. Let's get started!
Let's Check Kenya Visa Requirements For UK Citizens
Although getting the Kenya e-visa is not difficult, the British still may be rejected by the Kenya government because of the lack of standard in the document you submit. 
There are some documents that the UK citizens have to prepare. For all types of visa, the basic requirements including:
Your passport photo which was taken within the past 6 months.
Your passport with at least one blank page.
Additionally, each type of visa will need separate extra documents.
For those who enter Kenya for tourism: Hotel bookings, travel itinerary, and return flight ticket.
For those who enter Kenya for business: Copies of registration of the company, Invitation Letters of company or Invitation letter for business visits, and return flight ticket.
For those who enter Kenya to visit family and relatives: Invitation Letters from family,  Identity card/ Passport of the host, and return flight ticket. 
For those who want to transit in Kenya: A round trip ticket.
It is obvious that the return flight ticket is required in almost all cases. Fortunately, you could get it quickly with us. We also highly recommend you to get Kenya travel insurance (including covid-19 treatment expenses). With these preparations, your application would be faster approved e-visa by the Kenya government.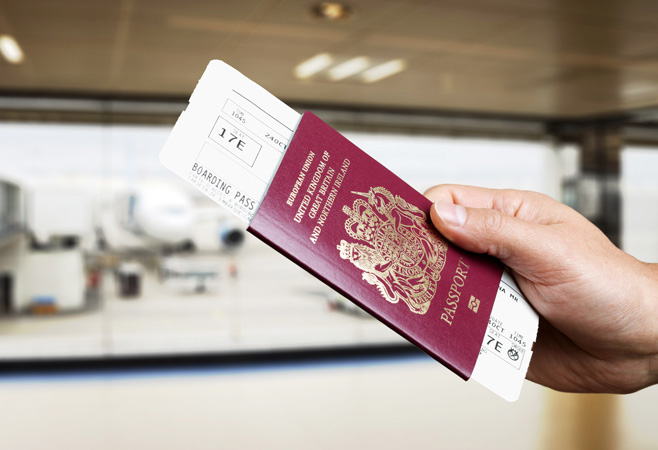 Check Kenya e visa requirements for UK citizens
Need To Know All Types Of Kenya Visas For UK Citizens Currently Available
In order to enter Kenya, UK citizens must get the appropriate Kenya visa. Depending on the reason of their trip, UK nationals can get a variety of Kenya visas.
The Kenya e visa for UKcitizens is the most common, and it may be applied for and obtained online before to your travel. This type of Kenya visa is valid for a maximum of 90 days and is appropriate for visitors entering Kenya for pleasure, business, medical, or transit purposes.
Currently, depending on the purpose of the visit, UK nationals can get one of four (04) categories of Kenya e visas.:
Mostly used for traveling and sightseeing. Kenya tourist eVisa for UK nationals allows for a single entrance and a stay of up to 90 days.
When UK passengers need to traverse Kenya before continuing on to another country, they use this term. Kenya transit eVisas are valid for 90 days from the date of issuance, allowing UK visitors to spend up to three days in Kenya.
is crucial for your work trip to Kenya. With a Kenya business e visa, UK employees will be able to stay in the nation for 90 days in a row.
East Africa Tourist e visa
This East Africa tourist visa is a brand-new Kenya e visa. East Africa tourist e visas enable UK people to travel to three countries: Kenya, Rwanda, and Uganda.
UK visitors can visit these countries freely and stay for a total of 90 days with this sort of Kenya tourist eVisa.
UK citizens needing a multiple-entry Kenya visa are required to apply for a necessary Kenya visa at the nearest consulate or embassy of Kenya in the UK.
Apply Kenya Visa For UK Citizens Right From Your Home
For each reason why you want to enter Kenya, the government has a suitable type of visa. It is too convenient that they allow visitors to get a Kenya visa completely online, named electronic visa, or e-visa. Despite UK citizens still being able to apply for a Kenya visa at the Kenya embassy, British prefer applying for it online than having to get out and stand in line at the embassy. 
Every purpose in visiting Kenya has a type of e-visa correspondingly. Besides that, the three neighboring governments, which are Kenya, Rwanda, and Uganda, allow travelers to legally travel within these countries with one time application for Kenya visa online from UK
In conclusion, there are four types of Kenya e-visa for UK citizens to apply for:
Tourist e-visa.
Transit e-visa.
Business e-visa.
East Africa Tourist e-visa. 
With your available document and also our support, UK citizens could easily apply for Kenya e-visa in minutes through some steps right at home. 
After making a decision on the type of e-visa, you simply apply online on our website with some basic information. Our expert will support you for all inquiries documents, get updated and result from the government and send it to your email. 
The whole process can be completed as soon as just 5 business hours in case you are very urgent in your Kenya journey.
Apply a Kenya e visa for UK citizens online
Learn More About Kenya Visa Fees  For UK Citizens
UK citizens as well as foreigners who want to apply for Kenya e-visa will pay for two kinds of visa fee including the government and admin fee, and service fee. 
In addition, Kenya Immigration Services currently also provide other package services to assist UK citizens while traveling to Kenya such as Kenya travel insurance, Car pick-up service in Kenya and Kenya eSim.
Lean about Kenya e visa fees for UK citizens
Kenya e visa services for UK citizens
Kenya Immigration Services is currently offering 3 options of Kenya e visa service for UK citizens depending on your needs.
Normal Kenya e visa service
UK travelers will get a Kenya eVisa approval in a guaranteed maximum of 03 business days.
Urgent Kenya e visa service
UK citizens can get this Kenya eVisa in a guaranteed maximum of 24 hours.
Super Urgent Kenya e visa service
This is the quickest Kenya visa option accessible, and it is only utilized in emergency situations. UK citizens can obtain a Kenya eVisa in as little as 05 business hours.
Apply for necessary Kenya visa at Kenya embassy in United Kingdom
Normally, the Kenya Embassy/consulate office in the Uk is open Monday to Friday.
Consulate of the Republic of Kenya in London, United Kingdom
Address: 45 Portland Place, London W1B IAS
Kenya embassy/consulate office's hours
From Monday to Friday
Morning: 09.00 - 12.30
Afternoon: 13:30 - 16:00
On public holidays in the United Kingdom and Kenya, the Kenya embassy's offices in the UK may be closed.
Note about Kenya e visas for UK citizens
Please notice that UK citizens need to download and print out your Kenya e visa, then bring it with you to show the Kenya Immigration officers upon arrival.
We are also set up to support British citizens in the situation of needing a Kenya e-visa urgently. It may be the context that you are in line at the airport in Kenya while you had been too busy to prepare for the e-visa before. Or your flight to Kenya will take off in the next 48 hours, don't worry about getting e-visa to enter Kenya legally. Our expert with 10 years experience will help you, and in return, you will pay an amount additionally.
Kenya Visa Requirements for United Kingdom Citizens FAQs