Kenya visa requirements for Turkish citizens - Fees & Services
Kenya is a paradise for nature lovers because this country has immense meadows, plateaus, and a part of the second most enormous lake in the World: the Victoria lake. Moreover, you will have a chance to discover the traditional tribe cultures, the unique point of African countries.
If you are planning a trip to Kenya, you need an understanding of the Kenya visa requirements for Turkish citizens. A Kenya visa for Turkish citizens can be easily applied and obtained online. This document can be used for short trips.
Kenya visa for Turkish citizens - How to get a Kenya e visa from Turkey?
To apply for a Kenya e-visa from Turkey, you can take advantage of the amazing services of kenyaimmigration.org. We have a team of experts ready to assist you at any stage of your application. You only need to contact them when necessary. The application procedure will take you 20 minutes to complete.
Our experts will begin working on your application as soon as it is submitted. Depending on the processing speed you select, you will receive your document.
To learn more about the Kenya e visa requirements for Turkish citizens, please read this article below.
What is a Kenya e-visa for Turkish citizens:
If you are a Turkish citizen traveling to Kenya, you must apply for a Kenya Visa for Turkish citizens before your travel date in order to enter and stay in the country for tourism or other purposes. You do not need to go to the embassy to obtain this document.
Introduced in 2015, the Kenya electronic visa is an electronic tourist visa. It was implemented to allow Turkish citizens to gain expedited entry upon arrival at a Kenya border control checkpoint.
The Kenya e- visa for Turkish citizens is an electronic travel document that allows for a single entry into the country for a period of up to 90 days.
If you are traveling for tourism or business and will be staying for less than 90 days, you should apply for a Kenya e-visa.
To travel to Kenya for longer periods of time or for purposes other than tourism, family visits, business, or transit, contact a Kenyan embassy in Turkey for more visa information.
Let's Check Kenya Visa Requirements For Turkish Citizens
In order to satisfy Kenya visa requirements for Turkish citizens, you need to provide the following documents:
Turkish passport valid for at least 06 months from the date of arrival in Kenya and a blank page for verification stamping.
Passport biographical page in digitally scanned version and a digital photograph of yourself in any version will be required.
A flight ticket/round-trip ticket (for transit and East Africa e-visa): these 02 types of e-visa require your specific flight plan so you need to submit your flight bookings and itinerary to let the local authority verify your aviation information.
Your business documents: if you want to apply for a Business e-visa, you need to add the following documents to your list alongside the documents above: the invitation letter from an organization in Kenya that want to make business with yours, a company's COI, your business card/staff card.
A valid email address to receive Kenya's e-visa results.
It is recommended that Turkish travelers carefully review the Kenyan e-visa entry requirements before beginning the online application, as there are a few different prerequisites depending on the type of online travel permit: some additional conditions are required when applying for a business visa to Kenya or a travel permit to visit family.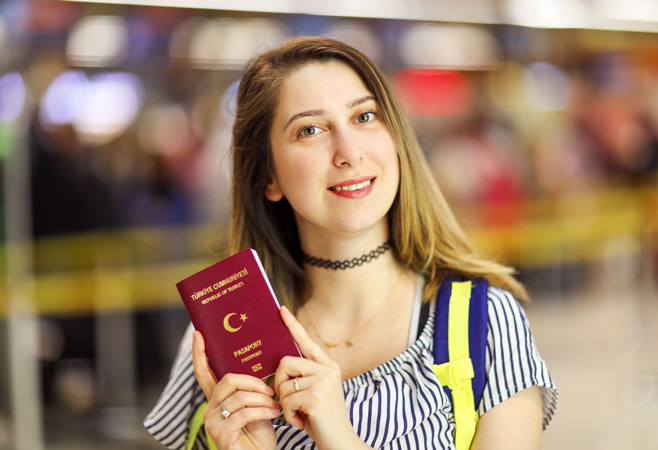 Check Kenya e visa requirements for Turkish citizens
Need To Know All Types Of Kenya Visas For Turkish Citizens Currently Available
A Kenya visa is mandatory for entering the Republic of Kenya. Below are the types of visas that are provided by our service
this e-visa type is released for tourism and visit purposes. With tourist e-visa, you will have a single-entry e-visa for a period of stay up to 90 days from the date of your arrival.
this e-visa is for transit situations. With this type of e-visa, you can stay in Kenya for less than 72 hours from the time of your arrival before taking another flight to your destination.
this type of e-visa allows you to enter Kenya for business-related activities. With this type of e-visa, you can stay in Kenya for up to 90 days from the date of your arrival with single-entry permission.
East Africa Tourist e visa
This special kind of visa allows you to visit 03 countries in total: Kenya, Uganda, and Rwanda, with a starting entry point in Kenya.  With this e-visa type, you can stay in those 03 countries for up to 90 days from the date of your arrival. In addition, you can go in and out of those 03 countries any time you want during your stay.
How to apply for a Kenya visa from Turkey:
To obtain a Kenyan visa for Turkish citizens, you must first fill out an online application. The Kenya online visa application for Turkish citizens is quick and easy, taking less than an hour to complete.
Just follow 3 steps to apply for the Kenya visa for Turkish citizens:
Step 1: Fill out the Kenyan visa application form for Turkish citizens
Step 2: Pay for the visa using a credit or debit card, PayPal, American Express, Visa, Master Card or Wire Transfer to our HSBC bank account
Step 3: Wait for e-visa approval and then receive your e-visa in your inbox.
Read more: How to get a Kenya visa online
It is critical to double-check all of the information provided in the e-visa form, as any errors could result in the denial of their application.
Turkish groups traveling with children, such as on a family vacation, should be aware that each visitor must enter the country with their own e-visa.
If the traveler's online Kenya visa application from Turkey is approved, they will receive the e-visa within 24-72 hours of submitting the online application. The traveler must then print the e-visa and bring it with them to the Kenyan port of entry to be presented to border control officials upon arrival in Kenya, along with the same passport used to apply online.
Apply Kenya e visa for Turkish citizens online from anywhere in the world
Learn More About Kenya Visa Fees And Services For Turkish Citizens
The Kenya e-visa fees depend on the type of visa. To apply for a Kenya visa online, you have to pay two (02) kinds of Visa Fee, which are called Service Fee and Government Fee.
The government Kenya visa cost varies depending on the number of entries the traveler requires, from US$ 95.00 for a single entry e-Visa to US$ 95.00 for multiple entries online visas and $65.00 for a Kenya transit visa
Meanwhile, the service cost depends on the number of people your application covers and how quickly you need the visa
We give you three options so you can choose which one suits your trip the most. Remember that the option you select determines how much you will be charged for your Kenya visa. Here are your choices:
Normal: the standardized service that can help you get your e-visa within 03 business days.
Urgent: a service that can push the processing time faster than usual.  By using this type of service, you can get your e-visa within 24 business hours.
Super Urgent: this is the highest priority the application process that can help you  get your e-visa within just 05 business hours
Payment method: you will choose to pay in 02 ways after determining what is your suitable type of e-visa: electronic payment (Visa, Mastercard, Amex, or Paypal) and wire transfer (HSBC bank transaction).
In addition, Kenya Immigration Services currently also provide other package services to assist Turkish citizens while traveling to Kenya such as Kenya travel insurance, Car pick-up service in Kenya and Kenya eSim.
Learn about Kenya e visa fees for Turkish citizens