Check Kenya visa requirements for Israeli citizens
If you live in Israel and have always wanted to visit Kenya, there is now a quick and simple way to obtain a visa. Beginning in 2015, the Republic of Kenya began issuing E-Visas to citizens of Israel and many other countries around the world.
Get your Kenya e-visa today if you don't want to miss out on the beautiful sights that Kenya has to offer. Obtaining a Kenya visa for Israeli citizens is as simple as a quick verification process, and our applications are simple and secure.
1. Kenya e-visa for Israeli citizens:
The Kenya e-visa is an online electronic visa authorization that allows eligible citizens to visit Kenya for short-term stays for tourism, business, and medical purposes.
The e-Visa for Kenya is an online visa available to tourists from around 140 countries worldwide, including Israel.
The Kenya Government introduced the e-Visa in 2015, which shortens the waiting period usually required for standard visa applications at a Kenya embassy or consulate.
The Kenya e-Visa for Israeli citizens is a single-entry visa that lets the holder stay in Kenya for 90 consecutive days, with a validity of 90 days from the issued date.
An electronic visa for Kenya can be obtained from the comfort of the applicant's home or office, eliminating the need to visit a Kenya embassy in Israel before the trip.
Type of Kenya e-visa for Israeli citizens:
If you're traveling to Kenya from Israel, you can choose from 04 different types of e-Visa, depending on why you're traveling and how long you want to stay in Kenya
Kenya transit e-visa: You're only in Kenya for a few days or have a long layover and want to learn about the local culture? The Transit e-Visa may be ideal for you. Israeli citizens can stay in Kenya for up to 72 hours from the time of your arrival with this e-Visa. It's important to note that if you don't have a visa, you won't be able to leave the airport. If you have a connecting flight in Kenya and have a long layover, why not explore our beautiful country and experience Kenyan culture, food, and scenery? With the e-Visa, we've made it simple.
Kenya tourist e-visa: If you want to spend more time in Kenya, the Tourist e-Visa is a great option. This visa allows you to enter Kenya once, within 90 days from the date of your arrival.
Kenya business e-visa: The Kenya Business e-Visa allows a single entry stay of up to 90 days in Kenya for business purposes.
Kenya East Africa visa: With the East Africa E-Visa, you'll have access to Kenya, Rwanda, and Uganda within 90 days from the issued date and can stay no longer than 90 days at a time. You can enter and exit Rwanda and Uganda as often as you'd like.
2. Kenya e-visa requirements for Israeli citizens:
After you've decided on Kenya as your destination, you'll need to gather all of the Kenya visa requirements for Israeli citizens. There are only a few things you'll need before you can start an application, and they are as follows:
An Israeli passport that is valid for at least 06 months from the date of arrival in Kenya. There must be at least 02 blank pages in the Israeli passport.
A color passport-style photograph of the Israeli applicant was taken recently.
A valid email address. Israeli passport holders will receive all important information about the e-Visa, as well as the online visa itself, via email at the end of the application process.
Proof of onward travel (for East Africa and Transit e-visa): You need to provide all your tickets to verify the entry point and landing-leaving time.
Travel plans shared. This may include submitting information about lodging, cities to be visited, and/or activities planned in the country.
Business documents (for Business e-visa): to get qualified, you need to provide an invitation letter from your company's partner in Kenya, a company COI, and your information card (staff ID/business card).
Visitors from Israel must learn that additional conditions may apply, for example, if they hold any criminal record before entering Kenya.
Once approved, the e-Visa must be printed and presented at the Kenyan border, along with the passport used in the application.
The visitor will be allowed to enter the country after being checked and approved by a border control officer.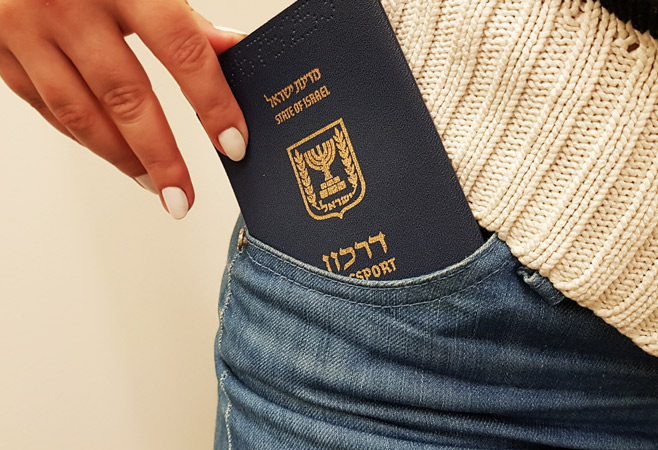 3. How to apply for a Kenya visa online from Israel:
Getting a Kenya e-visa for Israeli citizens is simple and only takes a few minutes. Travelers from Israel can apply for a Kenya visa using their smartphone, tablet, or personal computer.
It is critical to carefully review the information provided on the application form. Pay close attention when entering your contact information because the e-Visa Kenya will be sent to the email address you provided during the application. Any typos or errors may result in delays or rejection.
Israeli travelers can apply for a Kenya visa online in 3 simple steps:
Step 1: Complete the Kenya e-visa application form
Step 2: Pay the Kenya visa processing fee
Step 3: Print out the Kenya e-visa
Read more: How to get Kenya online visa
All information provided by Israeli applicants must be correct and true, as incorrect answers to these questions may result in a delay or denial of the online visa to Kenya.
The processing time for e-Visa can range between 05 business hours to 03 business days. As a result, Israeli citizens are advised to apply for their electronic visa at least one week before their departure date.
The Israeli applicant's email address provided in the application is used to send the travel permit to Kenya once it has been approved.
The approved visa must be printed and carried with the Israeli visitor upon arrival in Kenya.
4. Kenya e-visa fees for Israeli citizens:
Depending on the type of visa you want the price, we offer you these prices. Kenya e-visa fees include the Government Fee and Service fee. 
You can choose any of the following options for your Kenya visa for Israeli citizens application on kenyaimmigration.org
Normal: most applicants go for this option because it is the least expensive. Your Kenya visa is ready within 03 Business Days
Urgent: You get your document within 24 business hours
Super Urgent: being the fastest option means that it is also the priciest. Your application is processed within 05 business hours
Click here to choose a type of visa and see our fees and the times your visa would be processed.
Payment method: to complete your payment, you can choose to pay in 02 ways: electronic payment (Visa, Mastercard, Amex, and Paypal) or wire transfer (HSBC direct bank transaction).
In addition, we also provide other service packages to help customers have a safe and time-saving trip when coming to Kenya, including Kenya travel insurance, Kenya travel Sim, and Car Pick-up service in Kenya.