Kenya visa requirements for Georgian citizens
To travel to Kenya, Georgian citizens are required to have a valid visa. You can apply for a visa to Kenya either online or at the nearest Kenyan Embassy or Consulate. However, it is far preferable to apply for a Kenyan visa online prior to departure.
This article will show you more information about Kenya e-visa requirements for Georgian citizens, how to get, and visa fees.
Kenya e-visa for Georgian citizens
1. Kenya e-visa for Georgian citizens:
Georgia is one of over 150 countries that are required to apply for a visa to visit Kenya.
Tourists and business travelers can get a Kenya visa from Georgia online. To be eligible, they need to meet all the Kenya visa requirements.
The Kenya evisa is an electronic visa that allows visits to the Republic of Kenya for the purposes of tourism, business, medical reasons or to visit friends and relatives. It can be obtained quickly and easily by applying online.
In 2015, the Kenyan government established the Kenya e-visa to facilitate international tourism and visits. The e-Visa replaces the previous "sticker visa" and provides numerous benefits to visitors from Georgia, including a lower price, online availability, and faster processing times.
The Kenya e visa for Georgian citizens is valid for a single stay of up to 90 days.
Georgian passport holders can simply apply for an e-Visa from the comfort of their own homes. Georgian citizens can obtain a Kenya e visa using any computer or device with an internet connection.
If you are planning to travel to the country for other reasons, such as relocation, work, or study, you are required to visit the Kenya Embassy in Georgia.
Type of Kenya e-visas:
Kenya tourist e-visa: Are you planning a trip to Kenya to see this wonderland for yourself? Don't forget to apply for a tourist e-Visa before entering Kenya. You can stay and travel for up to 90 days with this single entry e-visa.
Kenya business e-visa: The Kenya business visa can be obtained online. If you are visiting Kenya for business purposes, you can apply for a Kenya e-visa in just a few minutes. The validity of this single entry e-Visa for Georgian citizens is for 3 months after the issue, allowing its holders to remain in Kenya for up to 90 days from the arrival date.
Kenya transit e-visa: You must transfer through Kenya to reach your final destination. You may not want to stay at the airport, but you should leave to explore this beautiful country. You can apply for a transit e-Visa in this case. This type of visa is only available to visitors who plan to stay in Kenya for less than 72 hours.
East Africa e-visa: This is the best e-Visa option for Georgian visitors looking to visit East Africa. With the East African e-Visa, you can add Rwanda and Uganda to your Kenya trip, and you'll have 90 days to enter and exit as you please. Apply for an e-Visa to East Africa here.
2. Kenya e visa requirements for Georgian citizens: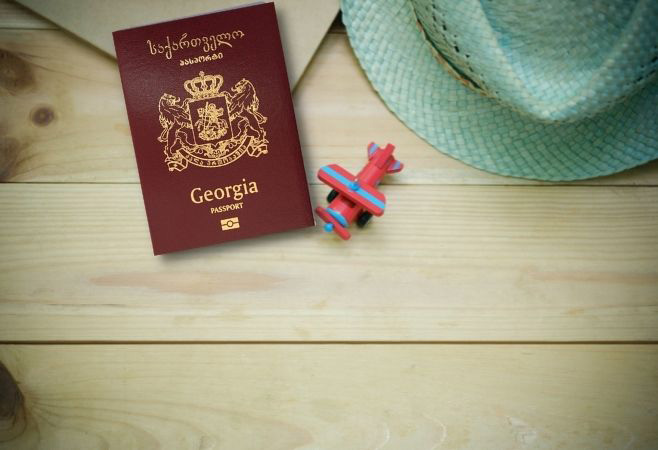 Kenya e-visa requirements for Georgian citizens
Although the Kenyan e-Visa was designed with simplicity in mind, each Georgian passport holder must meet certain visa requirements in order to complete their application. Below is a list of requirements to be met to obtain the Kenya evisa for Georgian citizens:
A Georgian passport – with a minimum validity of 6 months from the intended arrival date in Kenya.
Scan of your passport's biographical page – the scan must be a correct one, including all the pages of the applicant's info.
A digital photograph (making sure it meets the Kenya visa photo requirements)
Round Trip ticket
Email address – We will use your email address to communicate with you. There, we will send you all updates on the status of your e-Visa, and if additional documents are required, we will notify you.
You need to submit an invitation letter from your business partner in Kenya, a Certificate Of Incorporation of the company, and your information card (staff ID/business card) in order to be eligible for a business e-visa.
Georgian citizens should apply for the Kenya e-Visa using the same passport they will use to visit the country. The e-Visa will be linked to this passport automatically and cannot be transferred to another travel document. This is critical for Georgian citizens who have dual citizenship or have replaced their original passports before traveling to Kenya.
Once approved, the Kenya e visa for Georgian citizens is sent to the applicant's email address. They should then print the e-visa to present to Kenya immigration officials when traveling from Georgia to Kenya.
3. How to get a Kenya e-visa for Georgian citizens:
Georgian citizens need to complete a short Kenya e-Visa application form while applying for the eVisa. This is an online questionnaire with straightforward questions that Georgian need to answer. They will be required to share the following information:
Information for the e-Visa (number of visas, type of visa, processing time)
Personal information (full name, date of birth, citizenship)
Passport number
Travel plans (date of arrival and departure)
Georgian citizens can access the Kenya e-visa application 24 hours a day, 7 days a week from the comfort of their home or office.
The 3-step Kenya e visa application for Georgian passport holders:
Step 1: Fill out the Kenya visa application form
Step 2: Pay the Kenya e-visa fees for Georgian citizens
Step 3: Download and Print out Kenya e-Visa
Read more: How to get Kenya online visa
Georgian e-Visa applications to Kenya are processed quickly. The majority of travelers will receive their approved visas via email in 05 hours to 72 hours depending on their visa service they use.
Applicants should plan ahead of time in case of any unexpected delays.
4. Kenya e visa processing times and visa fees for Georgian citizens:
Kenya e-visa fees for Georgian citizens
There are three different types of visa processing times. All have a set price to ensure that they are affordable to all customers. Here we explain the benefit of each one:
Normal: This is the most cost-effective and widely used option. You should allow enough time for your application to be processed. Your Kenya electronic visa will arrive in 72 hours. Despite the fact that this is the slowest, three business days isn't a big deal.
Urgent: This alternative is a whole lot quicker than the first option. You can get your Kenya e-Visa in only 24 hours.
Super urgent: This is the quickest option offered by Kenya Immigration Services. You can apply while you're on your way to the gate (if the airport is large enough). The application takes 05 hours to process.
To apply for a Kenya visa online from Georgia, you have to pay two (02) kinds of Kenya e-Visa fees, which are called the Service fees and Government fees.
In addition, we also provide services to assist our customers while traveling to Kenya such as Kenya travel insurance, Kenya eSim cards, and Car Pick-up service in Kenya.